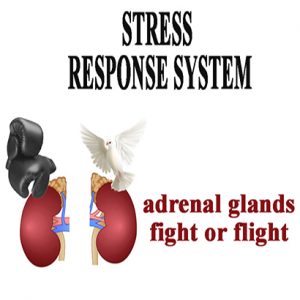 The adrenal glands sit on top of each kidney. They are the body's stress response system. In order to fix it you need to know what's causing it.  Stress, anger, fear, panic, and insomnia are now affecting a majority of Americans.
The adrenal glands come into play with everyday life issues like: financial pressures, emotional stress, marital stress, death of a loved one or pet, unwanted unemployment, psychological stress, and emotional stress.  Negative attitudes and beliefs can also affect the adrenal glands when we experience and feel fear.
Lifestyle can also have an impact on the adrenal glands. Smoking, lack of sleep, a simple lack of exercise or an excessive amount of exercise.  They also respond to over exertion and when we do not give ourselves time to relax.  Poor eating habits can also have a negative affect on the stress response system.
A person's diet can also impact your adrenal glands.  Coffee, caffeine, sugar, white flour products, and lack of good food in general can have a negative affect on your stress response system.  Toxins are also bad for a person's stress response system.
And finally there are the body issue factors that can affect the adrenal stress response system. These include prescription medication, allergies, and infections.
The following video message is brought to you by practitioner Kat Ogar, CHC, Dipl. ABT, C.Hom..  Many of us do not even realize that our problem maybe an overwhelmed adrenal system.
"If you're tired, stressed, overwhelmed, anxious, have brain fog, difficulty concentrating or have a hard time getting to sleep or staying asleep, chances are your adrenal system is working overtime."

Kathleen Ogar can be reached by calling  617.678.4088  or email kat@yourinfinitewellness.com  or visit  Infinite Health and Wellness