Pet Owners are Healthier and Live Longer.
In 2018, the number of homes with a pet is 68%.  For those of us that own a dog or cat, he or she is a member of your family. For many it is the only family they have.  Increasing your pet's life span and time with you is the most important thing.  Studies show that seniors who own a dog live longer, and have healthier lives than people who are pet-free. Give your pet the same: health and a longer life.
Owning a Pet is Beneficial
For people that are 50 plus years of age, dog ownership translates into actual health benefits that can be seen and realized. There is no substitute for the comfort and companionship that a pet can offer to someone who is aging.  One of the greatest benefits of owning a pet is how it impacts the symptoms of depression and being alone.  Pet owners benefit with lowered blood pressure, reduced stress, increased social interaction, and increased physical activity.  Owning a dog is shown to increase leisure-time physical activity. This occurs by increasing walking which is self-paced, low impact, and does not require equipment.
Feed your Best Friend Correctly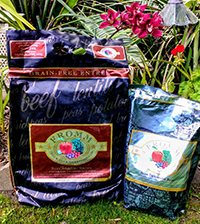 We have all heard the saying "You are what you eat".  The same is true for our best friends.  Feed a good quality health food and it is likely that your pet's health will be better.  A diet of table scraps can shorten your dog's life by years.  Obesity, pancreatitis, diabetes and other health problems plague dogs (pets) just like us.  One of the best dog foods is made by Fromm. Another excellent choice is Merrick.
Healthcare and your Best Friend
An important part of a pet's life is proper healthcare. I totally support the diagnostic advances of modern healthcare. Regular blood tests and possible x-rays when and if needed.  Periodic assessment by a licensed veterinarian makes sense and should not be avoided.
Medications
Prescription medications are a sticky point when it comes to both humans and our pets. Of course an infection should be treated with the appropriate antibiotic.  Antibiotics are best left up to the professional that is why they are a prescription.  Some antibiotics are better for skin and skin structure infections than others.  Just like other antibiotics are better at treating internal infections.
Vaccinations
Vaccinations are also a sticky point since small dogs are vaccinated with the same dosages and intervals that are used for larger breeds.  The answer is to find a veterinarian that is willing to perform blood levels (titers) to see if the vaccination is truly necessary.  These can be pricey and you should call around regarding costs. Over-vaccination of your best friend can lead to a wide range of health problems. In 2017 the American Animal Hospital Association (AAHA) had the opportunity to acknowledge science and the work of Dr. Robert Schultz, a veterinary immunologist.  But they failed and the guidelines for vaccination, from 2003, did not change. Dr Schultz published a study where he looked at every major vaccine in over 1000 dogs.    The article was published in JAVMA, No. 4, August 15, 1995, pg. 421.
Dr. Ronald Schultz, a veterinary immunologist at the forefront of vaccine research and chair of the University of Wisconsin's Department of Pathobiological Sciences, outlines the Duration of Immunity for the following vaccines:

Minimum Duration of Immunity for Canine Vaccines:

Distemper- 7 years by challenge/15 years by serology
Parvovirus – 7 years by challenge/ 7 years by serology
Adenovirus – 7 years by challenge/ 9 years by serology
Canine rabies – 3 years by challenge/ 7 years by serology

Dr. Schultz concludes: "Vaccines for diseases like distemper and canine parvovirus, once administered to adult animals, provide lifetime immunity." "Are we vaccinating too much?" JAVMA, No. 4, August 15, 1995, pg. 421.
For cat's the following information regarding "Duration of Immunity" is known.
Feline Panleukopenia vaccine, Feline Rhinotracheitis, feline Calicivirus, have all been demonstrated to be a minimum of 7 years by serology for rabies and challenge studies for all others.
Preventing Over-vaccination
The best way to know "Duration of Immunity" in your specific dog or cat is with a blood test that measures titers (levels) of vaccine. Your veterinarian  should be encouraged to find cost effective services that can provide these for you and your best friend.  A good example is to share these Vaccination Titer Services with your veterinarian. One is VacciCheck and the other is TiterCHECK.
Annual re-vaccination is a practice that was officially started in 1978." says Dr. Schultz. "This recommendation was made without any scientific validation of the need to booster immunity so frequently. In fact the presence of good humoral antibody levels blocks the anamnestic response to vaccine boosters just as maternal antibody blocks the response in some young animals."
Note 60% of all veterinarians still vaccinate once a year.  The primary reason is that 14% of all practice income is from vaccinations.  In 2003 the vaccination guidelines were arbitrarily changed to every three years by the AAHA.  It really is up to you to protect your best friend from over-vaccination. "That one shot could be the one to cause serious and irreparable damage to your dog."
Oral Healthcare
Taking care of your pet's teeth adds years to their life.  You benefit as you will not have to be bothered with Dog breath or Cat breath.  The primary reason pets have bad breath is not getting proper oral healthcare. Another reason to care about your pet's teeth is that it can save you $$$ in veterinary care bills.
Brushing Your Pets Teeth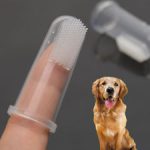 Begin oral care immediately when you get a new pet. They will become comfortable with it and expect it.    It is best to use either a finger brush or a soft bristle tooth brush and gently get them accustomed to you putting it in there mouth and rubbing on there teeth.  This is an example of a finger brush. These are generally soft silicon or latex.
It is important to know that it takes 3 days for plaque and tarter to form in your dog or cats mouth.  Therefore you should brush minimally every other day.  Of course daily would be best.
Once your pet realizes that this is routine, they become comfortable. The process of providing proper oral care is easy.  Notice the use of a soft-bristle human toothbrush and not the hard pet brushes that can actually damage the gums and lead to gum recession.
Do not use "human toothpaste"  on your dog or cat.  It can be very dangerous and lead to death. Often human products  contain flavorings that are enhanced with artificial sweetening products.  These are lethal and extremely toxic to pets.
Best Toothpaste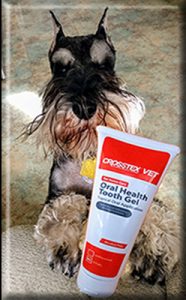 The best toothpaste product for your pet is actually one that contains chlorhexidine.  The product of choice recommended by Veterinary dentists is "CrossTex Vet Oral Health Tooth Gel"  To purchase at a 41% savings click on the product name underlined here.  To learn more about the product click on the image to the right or this sentence.
Chlorhexidine absorbs onto the surface enamel of the tooth.  If your pet swallows some of the  chlorhexidine gluconate, no problem  it is nontoxic. It is poorly absorbed from the gastrointestinal tract and simply eliminated in the feces.
Chlorhexidine is germicidal and reduces bacteria in the mouth. Chlorhexidine is used to treat gingivitis (swelling, redness, bleeding gums). Chlorhexidine is usually prescribed by a dentist.  For pets it is not a prescription.  Typically the product is only sold in veterinary dentists offices for $40 to $45 per tube.
Dog Toothbrush Stick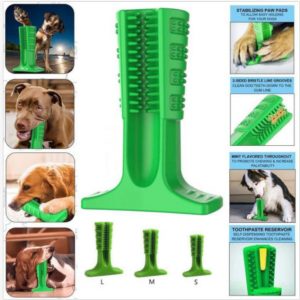 Another product advertised on social media and the internet is the dog toothbrush stick.  Dogs actually do like the product as it is meat flavored.  I purchased the product to test it.
Only give this product to your pet for 10 minutes.  Supervise your pet while it is being used.
 "Product Warning"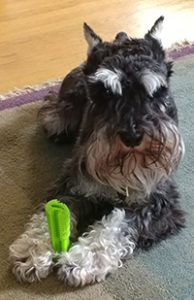 The image on the left shows that some dogs are able to chew off pieces of the product.  Fortunately this dog simply spit them out. If you do not watch your pet they may swallow these pieces.  If the product is used as directed it could be a beneficial tool for oral tooth care.
The product is made of a rubberized type of plastic. Ingestion of the product may be harmful.
Many people rely on rawhide chews.  These chews should also be supervised when given.  No one reads the fine print warning that states if the dog swallows a sizable piece it may get stuck in the esophagus or other parts of the digestive tract. May cause choking and or a blockage that requires abdominal or intestinal surgery to remove.
If you know someone with a pet sharing this article is encouraged.  If you have questions always seek the advise of your local veterinarian.
Your pet gives you a healthier and longer life. Do the same for your dog or cat.