Most of us who are 50 and older have seen the benefit of vaccinations throughout our lifetimes.  However today there appears to be a lot of controversy with respect to immunizations especially with younger generations.  I guess the decision is up to you and your health care provider.  Unlike most medicines, which treat or cure diseases, vaccines prevent them.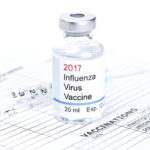 Get a flu shot every year. Over 60 percent of seasonal flu-related hospitalizations occur in people 65 years and older. More Information.
Get a shot for tetanus, diphtheria, and whooping cough. Get a tetanus booster if it has been more than 10 years since your last shot. More Information.
If you are 60 or older, get a shot to prevent shingles. Even if you have had shingles, you can still get the shingles vaccine to help prevent future occurrences of the disease.  This vaccine may be given to those in their 50s. Enquire with your healthcare provider. More Information.
People 65 years or older need a series of two different vaccines for pneumococcal disease. Talk with your health care provider about how to schedule them. If you have previously been immunized for pneumonia notify your provider.  More Information.
You may learn about other vaccinations at http://www.cdc.gov/vaccines/index.html.
An ounce of prevention is worth a pound of cure.  The decision to receive a vaccination is very personal.  Some individuals choose not to be vaccinated.  It is best to discuss this matter with your health care provider.