Meet your new neighbors.  These mosquitoes are spreading across the southern United States.  They are tiny and aggressive and are of the Aedes genus and are considered subtropical and or tropical mosquitoes.  Uniquely these mosquitoes do not fly very far but are being spread by eggs being transported in flower pots or peoples cars.
For the past seven years three species of Aedes mosquitoes, Aedes albopictus (the Asian tiger mosquito, 2011), Aedes aegypti (the yellow fever mosquito, 2014) and Aedes notoscriptus (2017), have been spreading throughout the southern states of Texas, Louisiana and Florida. They are now spreading very rapidly throughout southern California and other southern states.
These Aedes mosquitoes are known as the "ankle biter". However these tiny mosquitoes equally attack both legs and arms.  They freely attack during the day unlike many species that feed during the evening hours.  They are so tiny that often people never see what bit them. Often people think that they were bitten by everything from spiders to bed bugs to sand flies or fleas instead.  They literally can be mistaken as simple gnats.
Most Aedes bites are to the ankles and lower legs (below the knees). They look like clustered pinpoint marks that quickly become inflamed and expand into big red welts and rashes with scratching. The reaction to these bites is more severe due to the fact that we have no built up immunity to these new mosquitoes.
The great concern about the spread of these Aedes mosquitoes is that they can transmit the viruses that cause Zika, dengue, chikungunya, and yellow fever.
The Aedes mosquitoes are backyard breeders. They love the backyard and patio.  Unlike most mosquitoes the Aedes species lay their eggs on the sides of barrels or containers. So despite dumping out standing water they can remain alive in people's backyards for years.
What You Can Do
Educate and inform your neighbors about this new mosquito.
Encourage weekly checks for standing water on properties. ( Saucers under flower pots, drainage areas, fountains and pet water bowls are likely breeding grounds)
Mosquito control agencies recommend applying EPA-approved insect repellents that have DEET, Picaridian or oil of lemon eucalyptus.  It should be noted that: "A lot of the botanicals don't work" with these mosquitoes.
Aedes mosquitoes frequently bite indoors so make sure window and door screens are "bug tight."
Professional Spraying and fogging services are expensive. They are intermittently effective and potentially harmful to the environment (Bees, pets, etc).

The American Mosquito Control Assoc.

does not endorse the use of timed misting systems. These systems put pesticides in the environment that kill non-target insects and promote resistance in insect populations.
Numerous studies have shown that expensive bug zappers do not attract mosquitos.  Mosquitos are attracted to CO2 when we exhale not light. These devices kills thousands of bugs that are harmless and necessary to ecosystems.
Mosquito candles and torches do work but have a very limited effective radius. Generally 7 to 10 feet with no breeze or air movement.
A visit to Amazon will show you many devices claiming to suck in mosquitoes  – however customer reviews seem very negative with respect to actual mosquito reduction.  These devices can range from $20 to $200 some operating on USB plugs and others regular power.
The most important thing to do is: do anything to stop these invaders now,  before they get to the point where they can spread dangerous diseases. 
There is another way called the Spartan Mosquito Eradicator System.  This uses a patented bait that the mosquitoes are attracted to (CO2) and then they consume the toxic sugar mixture.  The male mosquitoes enter looking for the nectar (one of their favorite foods), and the females enter looking for blood (which is required by them to lay eggs) and they also consume the nectar.  The mixture they eat causes their stomach to rupture and they die.  This is significant considering that one female mosquito has the potential to lay over 5,000 eggs in 42 days.
The Spartan Mosquito Eradicator Option
One set of these Spartan Mosquito Eradicators (2 containers) treats 1 acre or an area about the size of one football field.  They need to be replaced every 3 months during the mosquito season.  For places like southern California that would be year round.  For other areas with a winter of course only during the spring and summer months.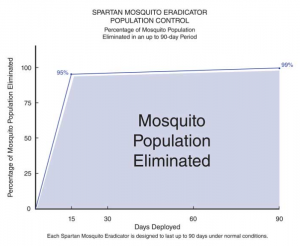 The cost to treat one acre of football field is $24.95 for a 3 month period.  The Spartan Mosquito Eradicator was developed in Hattiesburg, Mississippi.  This system reports 95% REDUCTION in 15 days after deployment of the system.  From Spartan: "Once deployed, the Eradicators will work together to form a barrier to "catch" hunting mosquitoes by emitting the same attractant triggers that draw mosquitoes to people and animals. Mosquitoes that feed will perish and are not able to reproduce. The mosquito population will suffer dramatically in the first 15 days and will be 95% controlled for up to 90 days."
The consumer reviews are also consistent and if there is an issue the company takes calls to resolve the issue.  The system is safe and will not harm bees or butterflies essential to pollination of gardens and fruit trees.
What customers say about Spartan
Upon reading 280 comments from consumers who have purchased Spartan, the product gets a 4.4 out of 5.  It appears that most issues with the product have been with incorrect deployment or setup or destruction by rain or the occasional squirrel.  Customers freely posted about their problems and failures and did get responses from Spartan.  More importantly is the success stories.  It would be virtually impossible to take over 280 Facebook accounts and post positive comments without the owner of the account being aware of it. This is unlike any other forum or review (Yelp, Google+, etc.). On those forums fake accounts can be created and good reviews made. Amazon reviews are good but sometimes people make a purchase only to slander a product and return it. Hence a "verified purchase". Or that individual that buys something and uses it for 3 days and expects miracles in 3 days.   If you have Facebook you can visit: SPARTAN on Facebook here.
If you are going to try this, like I have (I like it and have seen the 95% drop). Visit the Spartan website link underlined here to determine best time to deploy in your area. Also feel free to call them   toll free with questions (I did)  844.625.2742.
At the bottom of this article please click on DEPLOYMENT AND/OR SET-UP for the link regarding proper set-up of the Spartan Mosquito Eradicator  system.
Here are the Spartan Product's for purchase.  https://amzn.to/2Lo6gkn
Whatever You Do – Do not Ignore Your New Neighbor.  Controlling all Mosquitoes is the best Option for your Wellness.